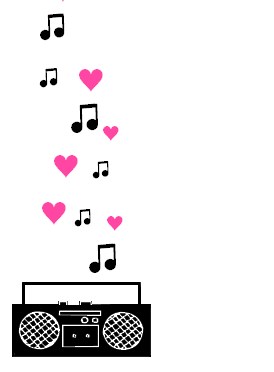 My favorite M is.....MUSIC! ok. ok. It really should be my Mom... or Melanie (my little sis..)~ but, I couldn't pick between the two... so, it's MUsiC!

i can not describe what music does to me. I could be mid conversation and a good song comes on.... yeah. I am gone. I go to another place. I don't know why it has such control over me...

I remember back in Jr. High recording the radio to listen to my fav songs over and over and over.... (that was pre-CD times...) Tiffany~Debbie Gibson~NKOTB!!~Bon Jovi...classics 'eh! "you got the right stuff, baby..."

That was good stuff. I was rockin out with my leg warmers, tight jeans and bangs hair sprayed to the ceiling...

Then in High School.... It was all about the music....
I listened to pretty much everything... besides Country (that wasn't introduced until I moved to Utah...)
Smashing Pumpkins, Usher, Black eyed peas, Pearl Jam, Mariah Carey.... just about anything...

I saw the Steve Miller Band concert.... Summer Jam... (R&B)... Alanis Morisette...Barry Manilow... ;) Garth Brooks...Foo Fighters... and various local wonders...

It seems that my love of music has been passed along to the little ones... none of them protest when I feel the urge to blast the radio while cleaning or cooking. In fact we have our own Boyer family dance moves.... yeah. I am one proud momma.


other magical M's~~Mom, Melanie, Mafia (the game...), Movies, Massage!!, Making Memories, mowing the lawn... and Mothers day.