I have the cutest 5yr old. I know. I know. I am her mom, naturally, she is the cutest to me... but, seriously, she's yummy. If I had to describe her in one word... it would be... clown. She is a funny little bug. Seriously, she doesn't go more than 5 minutes without doing something funny. She keeps me laughing all day.
I was volunteering in her class the other day and her teacher pulled me aside and started complimenting her. She was amazed at how fast she was picking stuff up. Yesterday, at home she said "mom, I taught myself to say the alphabet backwords..." then she proceeded to do it~ without any help and without missing a letter~ I freaked out. I asked her where she learned it and she said I saw a girl do it on TV and thought she would try it... it is so funny. I can't even do it...
It's so fun to watch her grow~~ but boy do I hate to see it all happen so fast. She is beautiful inside and out. And I am very proud to be her momma. Love you nugget!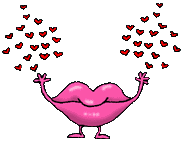 Other Krazy
K
's I love~~
Kisses, KSL.com, my
clean
Kitchen, Kizoodle.com,

skeleton

keys and korker bows...